You may have read this before, so you know where this is going… I just wanted to say to you by the way of introductory remarks that I'm extremely miffed about this subject, and in my quest to try to make you understand the level of my unhappiness, I'm likely to use an awful lot of – what we would call – violent sexual imagery and I just wanted to check that none of you would be terribly offended by that.
Okay?
Just before we do begin, if you are an actual climate change denialist – you might call yourselves "skeptics" but we both know that term is wholly inappropriate here – then, yeah… don't bother commenting. Don't bother. I don't care. You're wrong. You are factually incorrect in your opinions, and there's nothing anyone can do to change that, unfortunately. I know your arguments, I know your reasons, and they all fall flat – I know this for reasons that will become apparent shortly. So, don't waste your breath. Feel persecuted all you like, I don't care. I literally Do. Not. Care. That's prior warning: I might just dump you in the spam filter and I will not care.
Okay… now we're ready.
---
Dear Climate Change Denialists….
Actually, screw the formalities, you really don't fucking deserve to be addressed as mature fucking adults…
DEAR FUCKING IDIOTIC FUCKTARDED DANGEROUS LUNATIC FUCKING CUNTSNACKS,
Did that get your fracking attention?
Yeah, I'm talking you, fuckstains, the fucking idiots who think "bah, global warming is bollocks because it's snowing outside!" – because you're fucking stupid. Yep, that's you, you "but what about the medieval warm period?!" intellectual fucking losers – because you don't even have the first idea of what any of that even means.
Enjoy hiding this fucking decline, shitheads. Because I am really going to mine the depths of indecency coming up with this, but it needs said to you thick-as-fuck, shit-headed, tit-moochers.
You're stupid. Really stupid. Like… fucking hell, creationists think the world is 6,000 years old and that evolution is fake because giraffes don't give birth to crocoducks, but by hecking-hellsacks they're complete utter geniuses compared to you ballsacks-for-brains idiots. Yes, really, fucking creationists are brighter than you. Creationists, fucking creationists, enjoy a closer bond with reality than you knob-handling wank-puffs.
Let's look at the scale of stupid here, and how dangerous it can be:
Creationists: believe the world magically poofed into existence more recently than the domestication of the dog, but that hardly causes any harm, does it? Like, sure, the religious fundamentalism that backs it is homophobic as fuck and hates women, but creationism doesn't exactly kill, right? They're stupid, and off the fucking charts with how wrong they are, but they're nothing but a fuck-dumb intellectual curiosity.
Moon Landing Conspiracy Theorists: boy, oh boy, oh boy are these fuckers stupid. I mean, we could go over the cognitive biases they have all damn day, but apart from being loud and stupid, again they're mostly harmless. They're mostly a danger to themselves when they try this shit in front of Buzz Aldrin. They're fucking hilarious. Stupid, and hilarious for it. But harmless.
Homeopaths: the perfect cure for Heavy Wallet Syndrome, definitely, but at least when they cause death and illness it's limited only to the people they engage with. Homeopathy is a self-contained problem, restricted to the idiots who want to fall for it, and eventually at worst Darwinism will kick in eventually. So, homeopaths stupid, and potentially causing harm in certain circumstances, but self-contained harm.
Mediums: sick fuckers pretend to talk to the dead, but they don't actually go around putting the dead there in the first place, so whatever. It's their victims who are the gullible pricks: oh, boo-fucking-hoo for them, they've been tricked and swindled and emotionally mangled for money. But still, this is mostly harmless shit. The world won't end because Psychic Sally is a fraud. People aren't going to starve in a drought because someone paid tuppence for someone to stare into a ball and talk crap about their dead relatives.
But you… you, climate change fucking denialists, your ass-sitting, ass-pulling, ass-fingering opinions would let the whole fucking world burn just because you're too fucking busy, too stupid, or too intentionally ignorant to understand the very fucking basics of the science you think isn't real. And that's what fucking brings people like me to say shit like this; to belittle, insult, berate and fucking go to town with anger and profanity and shit-knows what else frothing at the front of my brain. We've tried reason, we've tried evidence… and you don't fucking care.
It's the entire fucking world, our future, the planet – everything – that's at risk and you don't care. You don't fucking care. You're endangering people who aren't you, who aren't even born yet – you're fucking up the future for my fucking kids that don't even exist yet without their fucking consent, because you're simply too stupid to grapple with climate science. You're fucking over everyone. Without their consent. Why not just strap a barbed-wire-wrapped dildo to your fucking tits and actually fuck us, it's the same thing. That's why I fucking hate you. That's why you're worthy of near-infinite contempt. You're the half-a-maggot in a fucking apple. You're the pube in the pudding. You're the shit-stain on the butt-plug.
You're fucking scum of the lowest order and the world will be better off without you.
And it's not like you even have a proper fucking motive to derp around as you do – what's the worst that could happen if we respond to global warming and it turns out it is a hoax? What? Did we just make the world cleaner, safer, more sustainable, more equal… all for nothing? OH FUCKING YOUR GODS THE SHEER FUCKING HORROR OF THAT!
Nope, you seem to just want to deny it because you can. Literally, apart from using it to self-evidence your stupidity, there's no other reason I can think of. You have nothing to lose from just rolling with what climatologists and environmentalists say. Nothing. Yet you deny it anyway. You're fucking us over because you're stupid and for no real reason at all. Fucking Jesus' testicles! That's not just ignorance, that's fucking hardcore fucking malice!
Okay, so climate science isn't piss simple. It's a bit more than "2+2=4". It takes a bit to get used to modelling, predictions and forecasts, the physics of the atmosphere, the heat capacity of the oceans… It's okay, you're allowed to not fully understand it.
But get this, idiot: NOT UNDERSTANDING SOMETHING ISN'T AN ARGUMENT AGAINST IT.
It really fucking isn't. You can be ignorant all you like, it says nothing. You can pretend to know what you're talking about (fucking spoiler alert; YOU FUCKING DON'T) but that doesn't interfere with the fucking facts, which have been fucking speaking for themselves for years.
Did I fucking make myself a-shitting-bundantly clear, you obnoxious little fuck-weasel? Your own fucking pig-face-fucking-ignorance of science, climate, history, geology, atmospheric chemistry, the dynamics of the hydrosphere… fuck, I could list this shit all day.. your stupidity and wilful fucking blindness when it comes to nearly every relevant branch of science DOES NOT SAY CLIMATE CHANGE DOESN'T HAPPEN. Hell's bollocks, I don't fucking understand why the fucking X-Factor is so popular, you don't see me spaffing my cock all over some shitty comments section about how the X-Factor isn't real. No, because that would be madness – but when you do it it's your free-dumb of freeze peach.
You don't get that privilege. You don't get the right to espouse an opinion because you didn't put the fucking effort in.
And, no, reading an article in the fucking Daily Fucking Heil doesn't count. Or watching some cunt-weasel chomp through the bit on Fox News; that's also a "fuck off" from me. "Effort" means actually haven't learned about some real climatology, like, you know, from a real fucking scientist that's studied it, not some fuck-goon you find convincing because they can drawl shit out of their mouths so loud and thick you can see the air distort around them.
Jesus fucking wept… what in every level of unholy fucking hell makes you shit-tarded absent-minded (that is, absent of any functioning mind whatsoever) freaks-of-fucking-nature think that you're qualified to make this kind of judgement? You can't even grapple with the fucking basics. Watching you people even try to grapple with the basics is like watching a two year old bang pans together. "Wah! Wah! LOOK AT ME! AREN'T I SO CUTE WITH THIS!!" – except the pan-banging isn't going to have a long-lasting effect on the human race.
It's self-evident each and every time you speak.
How about this: What effect do the thermohaline currents of the North Atlantic have on the heat deficit of the planet?
Answer: YOU DON'T FUCKING KNOW, DO YOU?
You couldn't even begin to fondle the bollocks of that question. You couldn't even shoot that question a seductive look across a fucking crowded bar. You couldn't even be admitted to the fucking bar to even see that question and her tight fucking hoochy pants because the intellectual bouncer would throw you out for wearing trainers. Yeah, that's a fucking "extended metaphor" for how fucking brainless you are…
Actually, no, sorry: people have actually survived as competent human beings without brains (really, look it up), so what the fuck is your excuse?
Really, what fucking excuse do you have for not even wanting to engage with the basics of this? Did a climatologist finger you up the bumhole when you were five and now you can't talk about the enhanced greenhouse effect without throwing up all over your keyboard? I mean, I get it, I do – vomiting your guts on a keyboard is literally the only fucking explanation I can think of as to why some of you would write this shit. Surely, fucking human fingers operated by actual functioning neurons couldn't come up with some of it.
"Eeeeuggggh, the planet hasn't warmed for 18 years!"
Oh, get fucking bent over a barrel you fuckwit – the warmest years on record have been in the last decade. It correlates with anthropogenic activity. Get the fuck over it already. Your inability to read data is your fucking problem, asshole.
"BBllllleeueueueghggggggggg…" **dumshit-hand-gesture** "…but the medieval warm period! But we're just warming after the Little Ice Age!"
Do you know what global means? It means "all the fuck over the planet", not our corner of fucking Europe. Hey, fucking news flash, dipshit: the world isn't fucking flat, you know. Do you know how long those periods cycle over in contrast to post-industrial warming? Nope, you don't.
"GGGgrrrrrrr…" **drools-a-little** "…but the sun… and cycles… and the planet does stuff… natural…"
Have a fucking prize you cunt-smush, this isn't news to climatologists. Do you seriously think your five seconds of looking at stuff on the internet has discovered a truth that has eluded hundreds of thousands of people who have been looking at data for decades? Oh, yeah, you do think that. That's why I'm fucking here you moronic deformed fucking cock-end.
"Fffffffffrrrrrruuulllllllbb… water vapour…"
It's the fucking ENHANCED greenhouse effect, dipshit. Do you not even understand that?!?
No, you don't. You prove it every single time you put fingers to keyboard, open your mouths, turn on your webcams or stand up in front of Congress or Parliament to "herp-a-derp-a-derp-a-herp" your way through your own pathetic ignorance. I wouldn't give two shits if this wasn't a serious issue, if there weren't real ramifications that you were forcing on us. Fuck, I'd treat it as comedy, but it's not fucking funny.
Hey, another quick question: What's the difference between low-altitude ozone generation, and high altitude photochemical ozone depletion?
YOU STILL DON'T FUCKING KNOW, DO YOU?
At least not without Dr Fucking Google to guide you to the first denialist website you can find that will intentionally misunderstand it for you. You'll ask the internet the question, ignore every single site for at least three pages of search results until you find one that goes "flllurrbelllehblleeflahhh!!!!" and choose that explanation to regurgitate like yesterday's fucking spit. Hell, at least fucking creationists would do their own fucking fundamental basic 101 entry-level misunderstanding themselves, you have to go to fucking "CO2 is Green" or some shit like that to tell you what to think because the words are too god-fucking-damn long for you.
You don't know the science.
You can't engage with the science at a basic level.
You can't fucking bring yourself to get a basic fucking education in the difference between "weather" and "climate".
And you don't want to.
And what really fucking pisses me off… the thought that physically keeps me up at night frothing, fuming and fearing for the fucking future… is that you have the exact same number of votes as me.
If some politician comes around to say "hey, we need to deal with this climate change thing!", and then another comes along and flapples his arms around saying "but how come it's snowing outside!!" your vote for that fucking idiot would cancel mine out. How is that fucking fair? I know the basics of climate science. I'm not an expert, but because I'm a smart, intelligent, rational person – or, at least, not on your level of unfathomable, arrogant stupidity – I'm happy to defer to the people who know more than me. The fact that I can do that proves that I'm fucking smarter than you, fuckwort.
In a fair and decent world I'd get the say. In a fair and decent world you'd get tossed out on your ass for being too mentally incompetent to make any informed decisions.
But nooooo, cries reality. You have the same fucking number of votes as I do. You apparently get a voice. You get the media exposure you're not entitled to through hard fucking work. You're the idiot that can outvote the expert in sufficient numbers. You're the shit-for-brains, regret-ridden cum-stain on the soiled underwear of the planet that would vote people into power who will happily fuck over the earth for a quick dollar, pound, bitcoin or what-the-fuck-ever like some fucking Captain Fucking Planet villain.
You'll do that because climate science is hard and you're too proud of your ignorance to think "hey, maybe I should defer to all the myriad people who dedicated their fucking lives to understanding this stuff for me". And that isn't fucking fair. I can't tell you how to be what you're an expert in – that is, how to be a fuck-nutted, shit-tarded, wilfully-ignorant imbecile – why do you get to even come close to making decisions on behalf of the world?
You actually pose a danger with your opinions. You can be put in a position where you can cause harm and excess suffering through your ignorance. And that's a fucking serious problem, that leads me to this:
Just grow old and die of old age already so people like me can get the fuck on with fixing the mess you're making!
And if you're a climate change denialist and a creationist, and a faith-healer or medium… please, just skip the growing old part and just speed the process up of your own accord. Really, we don't have time to fucking mess around and wait for natural causes to remove you from the gene pool and the voter pool.
Anyway…
Let's get onto some specific tubular bell-ends, because I'm on a fucking roll, here.
Johnny Ball
My own view, for what it's worth, is that the water content of air has far more impact on temperature than carbon dioxide levels do…Any increase in air temperature produced by raised water vapour levels will be minor and largely self-regulating…
Oh fuck off, Ball, you cock-handle. No your opinion isn't worth it. Anyone after two minutes of fucking physical chemistry could tell you what the fuck is wrong with your worthless shitting opinion. Haven't you fucking heard? The atmosphere is already saturated with water vapour. How the hell do I know this? Ever looked outside when the window starts making funny "pip-pip" noises and see water drops hitting it? Yeah, that. It's called fucking rain you ass-cloud. It rains because the atmosphere can't take any more water. The water gets the temperature up from "fuck-my-tits-it's cold" to barbecue weather. Carbon dioxide is on top of that, and the atmosphere can take more since it doesn't fucking rain CO2, does it?
Sarah F**king Palin
The e-mails reveal that leading climate "experts" deliberately destroyed records, manipulated data to "hide the decline" in global temperatures, and tried to silence their critics by preventing them from publishing in peer-reviewed journals.
Sarah Palin – only the forth dumbest living human on the planet behind Ken Ham, Ray Comfort and Andrew Schlafly. None of this is true. Literally fucking none of it. There's nothing else to say, except that Palin is a lying liar who lies by lying her lies. It is as fucking fictitious as her shitty belief that she can see Russia from her house and that the entire universe magically poofed into existence 6000 years ago. Go fuck yourself instead of fucking your daughter with your shitty and demonstrably useless purity and anti-sex bullshit.
Jim Inhofe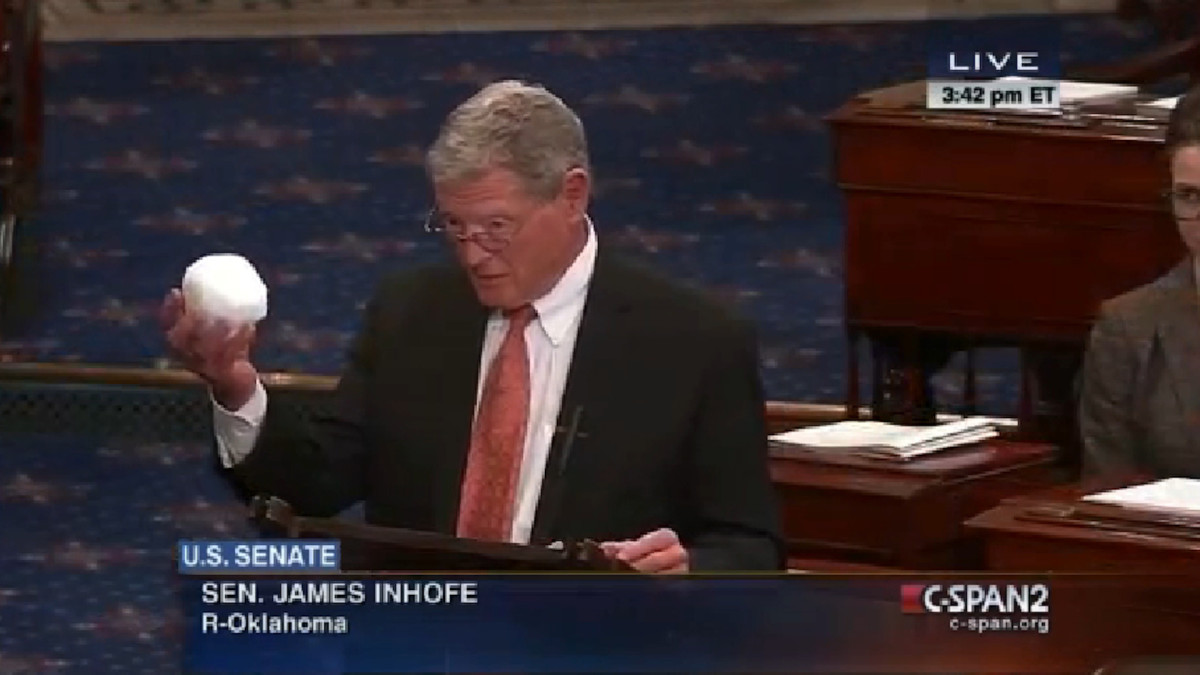 In case we have forgotten, because we keep hearing that 2014 has been the warmest year on record, I ask the chair, do you know what this is? It's a snowball. And it's just from outside here. So it's very, very cold out. Very unseasonable.
Like everyone with "(R)" after their name, Jim Inhofe can also go suck on a fucking barbed-wire-wrapped dick and swallow. This cunting cunt-stash couldn't tell his arse from his elbow if you showed him the difference with a fucking pop-up book. And what really pisses me the fuck off is that in one two minute interview with this cock-sack, he fires off so many half-truths no-truths, logical fallacies, and pebble-dashes the world in so much bullshit, that I could take hours to debunk it. If I set one minute of him talking as an undergraduate assignment with the question "why is this guy full of shit?" they'd clock up enough hours tearing him a new one that they'd be qualified for a fully-credited Masters degree in it. I should do that. We could call it an 'MBull'.
Joe Barton
Wind is God's way of balancing heat. Wind is the way you shift heat from areas where it's hotter to areas where it's cooler. That's what wind is. Wouldn't it be ironic if in the interest of global warming we mandated massive switches to energy, which is a finite resource, which slows the winds down, which causes the temperature to go up?
GET IN THE FUCKING SEA! DIE IN A FIRE! FUCK YOURSELF! SUCK YOURSELF! GET IN THE CUNTING-OCEAN AND SET YOUR BALLS ON FIRE WITH A LUMP OF POTASSIUM!
All of you, in fact. Get in the fucking rising sea. Drown. Die. Stop polluting the planet with the shit emitting from your worthless fucking mouths you weasel-brained, fuck-nosed, cockwombling, cunt-hammering, dick-splushing, gobbleshitting, twitchbarfing, pseudo-intellectual, screamo-fucking, planet-raping, brain-dead shits.